By Brian Blackwell, Message Staff Writer
ALEXANDRIA, La. (LBM) – Louisiana Baptists are facing a new normal since the Coronavirus Disease 2019 (COVID-19) led to the shutdown of schools, restaurants, entertainment venues, other businesses and churches in mid-March.
President Donald J. Trump has essentially closed down U.S. borders, banning foreign travel to our country from coronavirus hot spots in Europe as well as Asia and the Middle East. He also has issued guidelines for protecting individuals from infection, asking Americans to work from home if at all possible and to limit assemblies to no more than 10 people.
Louisiana Governor John Bel Edwards issued a proclamation March 13 that mandated all events of more than 250 people in attendance be halted through April 13, but days later decreed even tighter limits, restricting gatherings to no more than 50 people, leaving many people of faith wondering how to worship on Sundays and hold other church-related activities.
In response to the directives from federal and state officials, the Louisiana Baptist Building in Alexandria closed March 18 and will reopen April 1. All state mission service personnel has been assigned specific tasks which can be done at home. LBC events are cancelled or postponed through the end of April.
"Thanks to technology, all of our state missions staff have been assigned tasks and are working remotely in order to comply with the president's request," according to Steve Horn, Executive Director for Louisiana Baptists. "We want to do our part to help prevent the spread of this virus."
Horn noted that resources and links can be found at LouisianaBaptists.org to help churches navigate these uncharted waters.
"While these are unprecedented times, these are also wonderful opportunities for spiritual growth and outreach," Horn continued. "If you've fallen behind in your Bible reading, now's a good time to catch up. If you're engaged with the 'Who's Your One?' emphasis, continue to pray for them and reach out to them during this time.
"More than likely people will be in front of their TV's and on their devices more than normal, so visit HereforYou.org and share your favorite Here for You commercial," Horn offered. "Pray God will draw people's attention to the commercials they'll see on broadcast and cable TV as well on social media.
"Pray the seed of God's truth will find good soil and ask God to water the seeds that have already been scattered," he continued. "And ask God to prepare some of the hearts for harvest in the days ahead. Even the midst of uncertainty, God is faithful. May He find us faithful during this time as well."
SILENT ENEMY
Through close of business on March 18, the Louisiana Department of Health reported 280 cases of COVID-19 — in 13 of 64 parishes — with seven deaths. Six of the deceased lived in Orleans Parish and the other in Jefferson Parish, and four of the deaths took place in the Lambeth House retirement home in New Orleans.
Meanwhile, nationwide, the Centers for Disease Control and Prevention reported 7,038 confirmed cases and 97 deaths as of the same date. By comparison, the World Health Organization reported 207,855 confirmed cases have resulted in 8,688 deaths, so far.
PRESIDENT TRUMP
To combat the virus, President Donald Trump asked Americans to work from home, postpone unnecessary travel and limit social gatherings to no more than 10 people.
He has signed proclamations that restrict travel to the United States from foreign nationals who recently have been in Europe, China and Iran. Trump also announced on March 18 the closing of the U.S.-Canada border.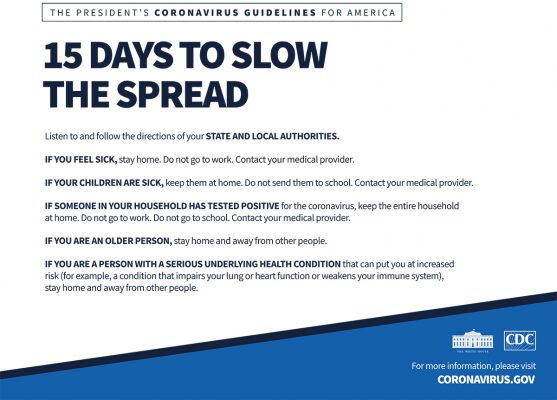 "By making shared sacrifices and temporary changes, we can protect the health of our people and we can protect our economy, because I think our economy will come back very rapidly," Trump said in a news conference March 17. "If we do this right, our country — and the world, frankly — but our country can be rolling again pretty quickly. Pretty quickly.
"We have to fight that invisible enemy that, I guess, is unknown but we're getting to know it a lot better."
The president also urged Congress to pass a $1 trillion stimulus package that would provide $250 billion in checks that will be issued directly to American citizens by early April. The move is designed to fight off a possible recession.
GOVERNOR EDWARDS
During a March 18 news conference, Edwards urged Louisianans to heed his proclamation to avoid crowds larger than 50 people, and for those who are most at risk to avoid gatherings of more than 10 persons – with these restrictions remaining in place through April 13, the day after Easter.
He encouraged people to cook at home, or use restaurant delivery, take out and drive-through services — since his proclamation closed public dining rooms. Also shut down were schools, casinos, bars, fitness centers and movie theaters.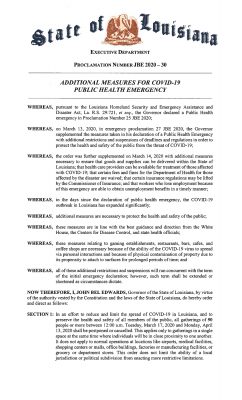 Because of the suspected economic fallout, Edwards requested the Small Business Administration provide Economic Injury Disaster Loans for all 64 parishes. He encouraged those who have lost their jobs to file for unemployment benefits at www.louisianaworks.net/hire.
Those who may be suffering from mental health problems should call 866.310.7977, he noted.
"I want to reassure everybody that we are going to get through this," Edwards said. "It's going to be difficult. It's going to get worse before it gets better. But how much worse depends upon how we cooperate with one another. I believe in the people of Louisiana.
"I believe in the inherent goodness and decency and the generosity of the people of our great state," he continued. "I know that we are going to come together. One team, one heartbeat."
LBC EXECUTIVE DIRECTOR HORN
Most churches will be unable to worship at their facilities on Easter, and Horn said if he was still a pastor at a local church he would follow the guidelines set by the federal, state and local governments.
Horn most recently served as pastor of the First Baptist Church in Lafayette before he was elected as LBC executive director in May 2019.
Citing Luke 10:27, "Love the Lord you God with all your heart, with all your soul, with all your strength, and will all your mind" and "your neighbor as yourself" Horn said loving one's neighbor is taking necessary steps to protect them.
"Think about it, we're not being told we cannot worship," Horn said. "We're not being forced to believe something contrary to Scripture. We're simply being asked to temporarily restructure the way we do things in order for everyone to benefit. From my perspective we can make these work. I base this decision on what I see in God's word.
"Love God and love my neighbor is the command," he continued. "In our present context, with all the information that I have at the moment — that means protecting my neighbor.
"No, I am not afraid of getting COVID-19, but, I have an obligation to my neighbor to take necessary — even unprecedented — steps to not transmit this disease to those who might not be healthy enough to fight it," he continued. "I certainly have a neighborly obligation to not add to the potential crisis facing our healthcare providers.
"Therefore I'm going to participate and I'm leading our state mission staff to participate as well. I urge you, my fellow Louisiana Baptists, to join us in adhering to these guidelines. As we do, let's pray fervently that these guidelines work, allowing us to get back to assembling again sooner rather than later."