By Will Hall, Message Editor
RICHMOND, Va. (LBM) – Donations through the Lottie Moon Christmas Offering for the first quarter of the new fiscal year, Oct.-Dec. 2017, were $600,027 ahead of receipts for the same time period last year, a 4.1 percent increase, the International Mission Board of the Southern Baptist Convention reported Jan. 16 via press release.
Meanwhile, the overseas missionary force declined in 2017, dropping from 3,596 to 3,562, according to data collected from the IMB website Fast Facts page and a limited release Field Personnel Count summary.
MIXED RESULTS
The IMB reported a total of $15,221,629 had been collected from all sources "so far for the 2017-2018 campaign," which runs October through September. Previous campaigns were based on a June through May calendar.
IMB also reported it has received $23,304,153 in Cooperative Program funding for the 2017-18 fiscal year, which likewise started Oct. 1. This amount is $225,349 ahead of last year at this time, about one percent more.
The combined increases total $825,376 more for the work of the IMB.
In contrast to the financial blessings it is receiving, the IMB continues to lose more missionaries than it appoints annually.
The net loss of 34 field personnel for the year actually represents a shortage of 134 overseas missionaries based on the published budget plan.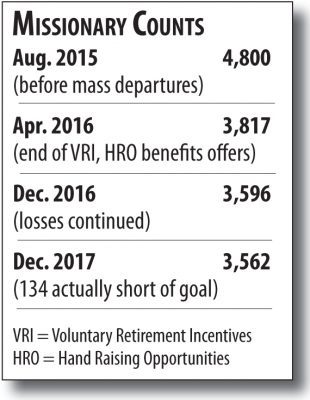 According to statements posted on the Frequently Asked Questions page on the IMB website, the budget provided for "a net gain (from Dec. 2016 to Dec. 2017) of 100 field missionaries, which is approximately 3 percent [more]."
The end of year report means Southern Baptists have lost an additional 255 missionaries, net, from the field since 2016, when 983 departed early after IMB officials announced the need for personnel reductions and offered incentives to induce voluntary terminations (another 149 stateside staff left in 2016, too).
Speaking June 12 to a select crowd in Phoenix, Arizona, during the SBC Annual Meeting, IMB President David Platt said a turnaround was imminent.
"For years now, we have declined in the number of Southern Baptist missionaries serving around the world," he said. "But this year, the stage is set for that trend to be reversed. The stage is set for Southern Baptists to send more missionaries, through a multiplicity of pathways."
The Baptist Message contacted the mission agency with questions and to allow comment on the continuing personnel losses in light of the entity's financial improvements, but IMB officials did not respond.