By Staff, Baptist Message
NEW YORK – For his entire life, Greg Oden dreamed of directing a choir at Carnegie Hall.
He finally got his chance in late May, when Oden and 82 students from the West Monroe High School Rebel Choir performed a 30-minute performance that featured several Christian-themed songs before a crowd of about 2,000.
"It took me 52 years to make my Carnegie Hall debut," said Oden, a member of First West. "It's just a revered place. I tell all the kids who have been there, that all these great, great performers have come before us. It's one of those places walking onto the stage that is inspiring."
Five of the six songs the choir sang had Christian themes. These included "Elijah Rock," "Lamentations of Jeremiah" and "At the Round Earth's Imagined Corners."
This was the school's fifth time for the choir to perform at Carnegie Hall, but the first time not to be combined with other choirs, and, the first time Oden was able to direct the group. Other locations where they have performed include 9-11 Memorial in New York, Omaha beach in Normandy, and Papal Basilica of St. Peter in the Vatican.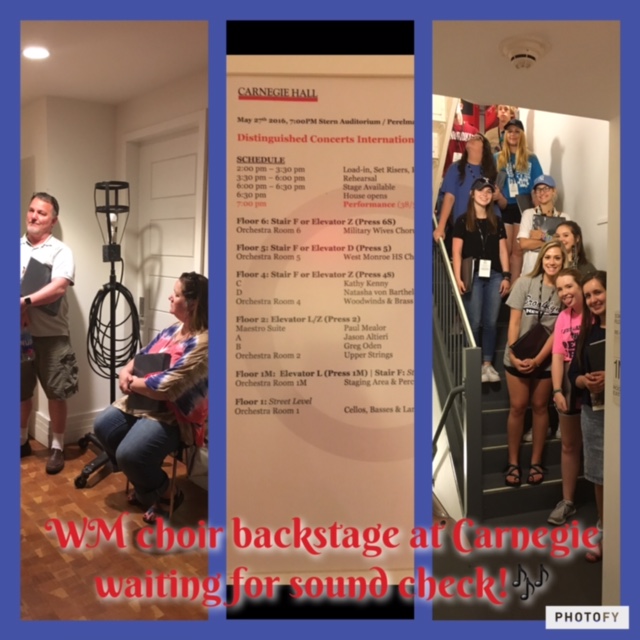 Oden, a member of the First West orchestra, will continue his travels, this time overseas, when he goes to Europe this month with singers and musicians from his church.
They flew to Wales June 25 to sing at schools, churches and other locations.
"I was raised that if God gave you a talent, you give it back to the church because He gave it to you in the first place," Oden said. "When I leave this earth, I want everyone to realize I did the best I could to make the music for the kids in the schools and church the best it could be."