By Staff, Baptist Message
MANY – Their names are synonymous with bass fishing.
Randy Howell, Brent Chapman, Alton Jones and Cliff Crochet are among the sport's elite and they will be at Siloam Baptist Church in Many May 7 at 6:30 p.m. for a 'Meet the Elite' event.
Not only will these professional bass anglers, along with several others, speak about their craft but they will also share about their faith.
"'Meet the Elite' is a great event," said Mary Gore of Toledo Bend Ministry Resort. "It is an opportunity to reach men and boys who will go fishing but may not go to church. Besides these anglers sharing fishing tips, telling some great stories, the good news of the Gospel of Christ is shared with those in attendance.
"This is the third time we have had the BASS Elite series tournament here and the two previous times saw a number of men and boys make professions of faith and accept Christ as their Lord and Savior," said Gore.
While Jones, a Texas legend with a Classic title in 2008, Chapman, who is currently leading the standings for Toyota Angler of the Year, and Crochet, a Louisiana native from Pierre Part, are all confirmed for the event, Gore said reigning Bass Master Classic Champion Edwin Evers and possibly 2014 Classic Champion Randy Howell may attend if their schedules permit.
Howell, a devout Christian, spoke at the event in 2014. Three months earlier, he won the 2014 Bassmaster Classic.
On his website he writes, "I challenge you to find a good Bible believing church and go to the pastor and tell him that you have been saved, and ask him to tell you what is next. Also, get yourself a Holy Bible and begin reading. God will show you the direction to take."
Gore hopes Howell, a powerful speaker, will be able to return.
"Because it is Mother's Day weekend, we are not sure whether Evers and Howell will be able to attend but I'm praying God will work it out," she said. "Both, though, will appear on a video to be played during the event. So, I believe people will be able to take a lot away from the evening."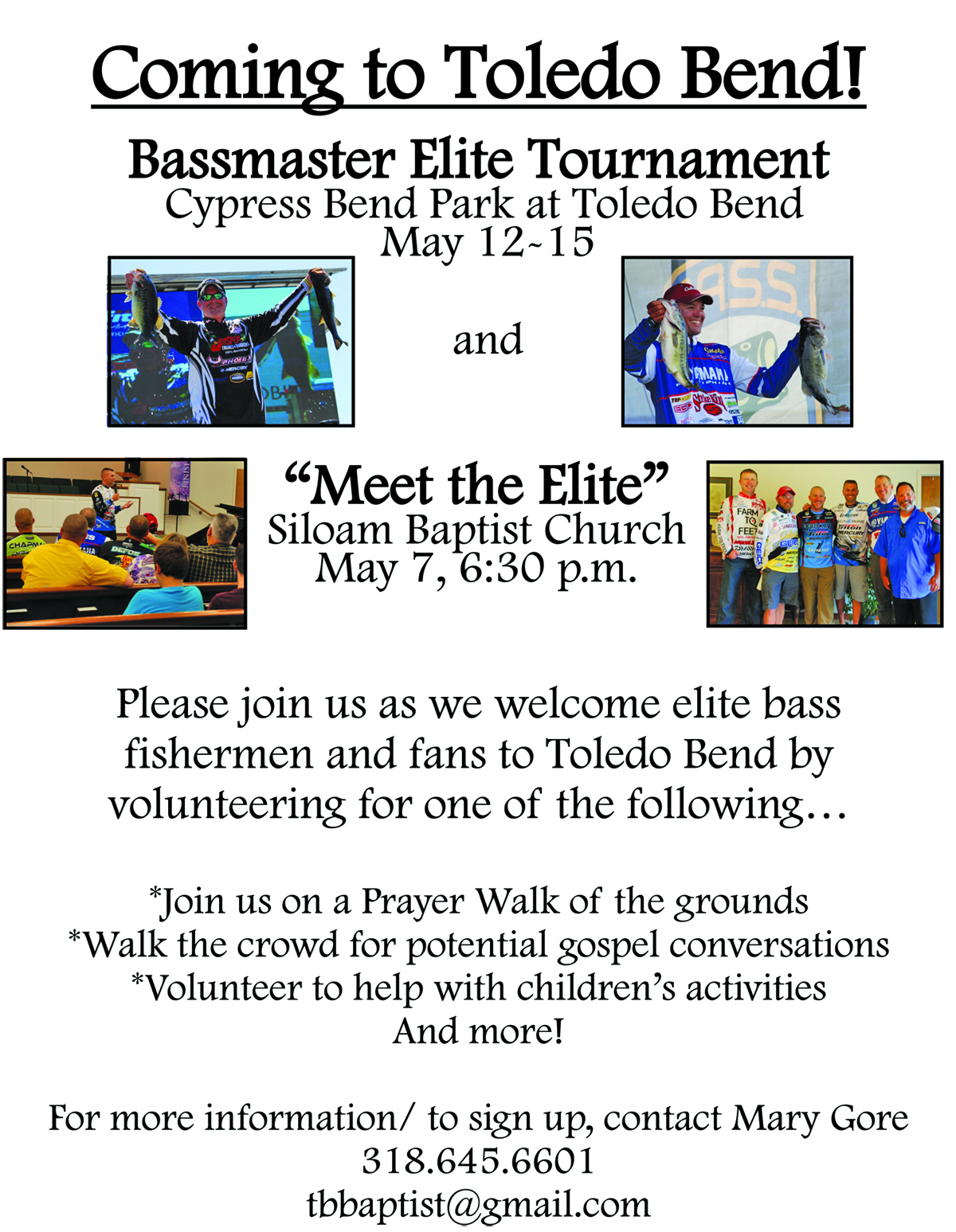 Gore said many of the anglers on the BASS trail are Christian and don't mind sharing their faith, especially Jones, who lives in Lorena, Texas.
"Fishing on the BASS Elite series circuit gives them a platform to reach a lot of people for Christ," Gore said. "And they are very willing to take time out of their preparations to do so."
Jones' testimony is just as powerful as Howell.
"My heart longs to have an impact on the lives of fishermen," he writes on his website. "I want others to know of the importance of God's Word and of the message it contains. Being a pro fisherman is really fun, but my career is merely the platform God has given me to spread the gospel and to share with others what God is doing in my life.
"I hope that one day I might be able to mimic the Apostle Paul and say "I have fought the good fight, I have finished the course, I have kept the faith," he continued. "You see, the work of Christ is a "good fight" and it is worthy of my life. I want to be much more than just a fisherman, I want to be a "fisher of men.
"Vince Lombardi, former legendary head coach of the Green Bay Packers, once said that "success is laying exhausted in victory on the field of battle," Jones wrote. "May God grant me the perseverance to be a success for Him."
Gore stressed the May 7 event is free.
"I really hope people will take advantage and come listen to these men," she said. "It will be worth the time and it could be life changing."
According to Gore, the tournament, which begins five days later and will be held at Cypress Bend State Park May 12-15, also presents an opportunity to "spread the Gospel."
"Please join us as we welcome the fishermen and fans to Toledo Bend," she said. "You can volunteer for a prayer walk of the grounds; walk the crowd for potential Gospel conversations, or volunteer to help with children's activities."
For more information about the two events or to sign up to volunteer, contact Gore at 318.645.6601 or email her at tbbaptist@gmail.com.