PINEVILLE – It was a fitting honor for the man who was the face of Louisiana College athletics for almost four decades.
Billy Allgood, the legendary former basketball and baseball coach at LC, returned Wednesday, March 29, to the baseball facility that deservedly bears his name for a special ceremony. A permanent sign at the entrance to the baseball field where he won hundreds of games in 30 seasons was dedicated.
In addition to being honored by the school but also received a key to the city of Pineville and got an opportunity to reminisce on his storied career.
He told reporters after the ceremony that he was humbled to be honored by so many former players, friends and community members.
"It's a great honor and you have to experience it to appreciate it," Allgood said. "There was a lot of work that went into this field and it turned out to be very good. Coach (Mike) Byrnes has done a great job of keeping the field up and improving it."
Allgood came to LC as head basketball coach and assistant football coach in 1959. He was appointed athletic director in 1965 and was given head baseball coach responsibilities in 1969.
While at LC, Allgood, who had a reputation throughout the south as a solid coach and a stern disciplinarian, not only coached basketball, baseball and football, he was also the athletic department's trainer, janitor, bus driver, handyman and construction worker, literally building the baseball field that bears his name.
In 26 years as basketball coach, his teams won 327 games, which ranks him sixth all-time among college basketball coaches in the state. LC was involved in post-season playoffs in six of Allgood's last nine campaigns
Twice, Allgood was chosen NAIA District 30 Coach of the Year, and he was picked as coach of the North team in the 1979 and 1980 Louisiana collegiate all-star games. In 1986, the Louisiana Association of Basketball Coaches tabbed him "Mr. Louisiana Basketball," and the group inducted him into its Hall of Fame in 1990.
Allgood, a two sport standout at University of Southern Mississippi, is also a member of the USM Hall of Fame and was inducted into the Louisiana Sports Hall of Fame in 1999.
Allgood's 1969-70 team, led by Billy Jones, became the first in school history to win 20 games.
Included among those wins was an upset of Texas-El Paso in 1977.
The 1978-79 squad, just a year removed from posting the upset at UTEP, went 22-7 and reached the NAIA National Tournament for the first time in school history as Paul Poe earned All-American honors.
In 30 years as the school's baseball coach, Allgood posted hundreds of more wins – coaching in more than 1,000 games – including a historic upset of defending national champion LSU in 1994. It was the first time an NAIA school had beaten a reigning NCAA Division I national champion.
Allgood concluded his career at LC in 1998, which included a stint as LC's athletic director.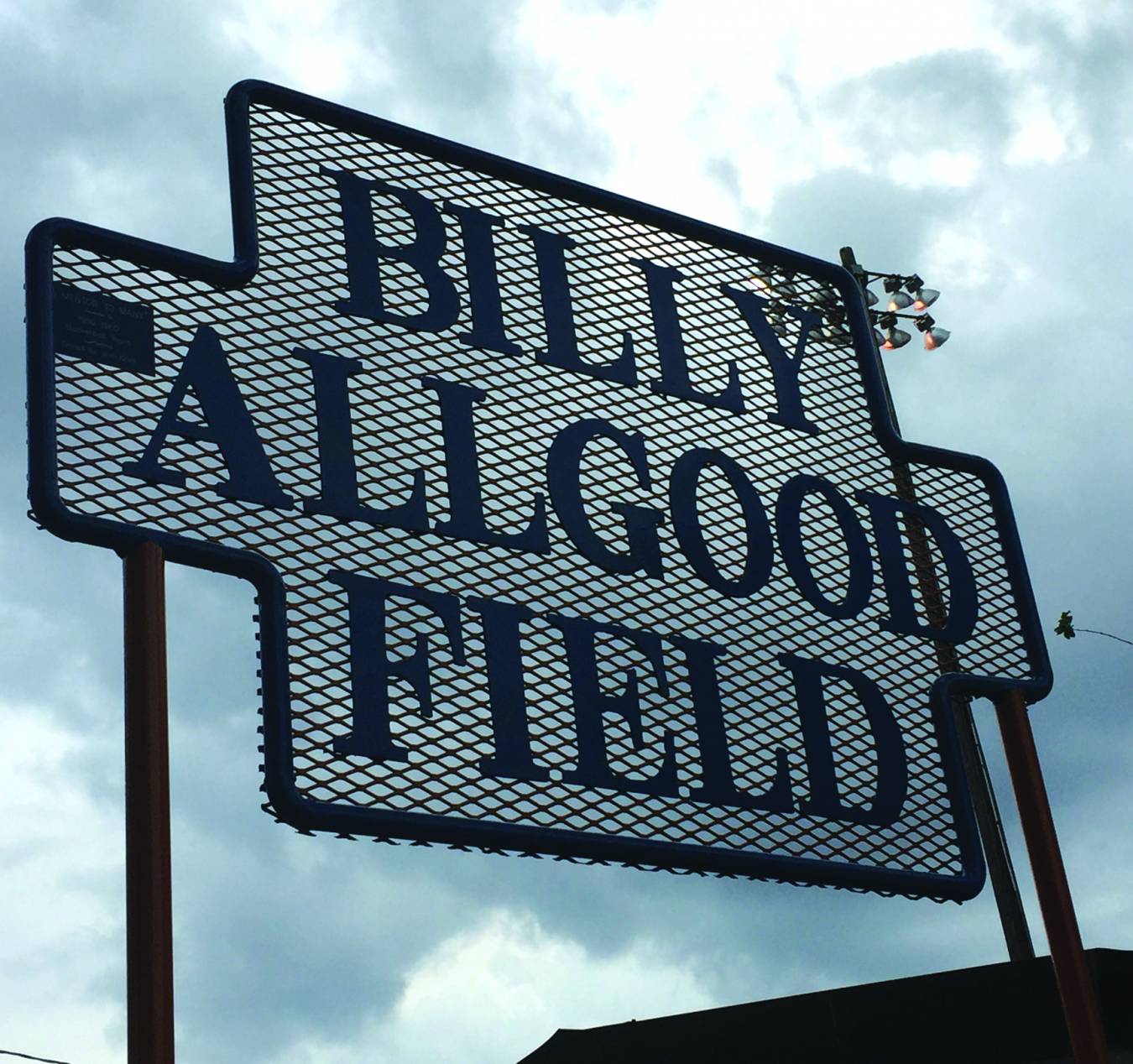 LC Athletic Director Dennis Dunn said he recalled coming to family reunions as a small boy and hearing stories of Allgood's success on and off the field.
"I could not wait when this opportunity presented itself to come in some way represent the legacy that you left here at this college," Dunn said during the ceremony. "The investments you made, only eternity will tell."
His accomplishments in almost four decades at LC ranged from 327 career basketball victories to personally building the baseball facility.
While most saw him as a fiery competitor, who demanded excellence in the classroom, on the court and on the diamond, very few were aware of his numerous acts of kindness for players, students, friends, and strangers.
"Our attendance here today reflects the lessons we learned at Louisiana College," said Larry Ladner, a player from the 1959 basketball team that helped procure the sign and plan the ceremony. "Coach Allgood, you instilled a spirit in us that has lasted a lifetime."