Lonnie Wascom, Director Missions for the Northshore Baptist Association, sent out a letter from  David Cranford of First Baptist Ponchatoula calling for immediate action to stop the expansion of gambling in Tangipahoa Parish.
Cranford's provides information below, especially for all pastors who serve in Tangipahoa Parish, "but, quite frankly, we need ALL of you to help prevent the expansion of this horrible disaster called state-sponsored gambling," wrote Cranford.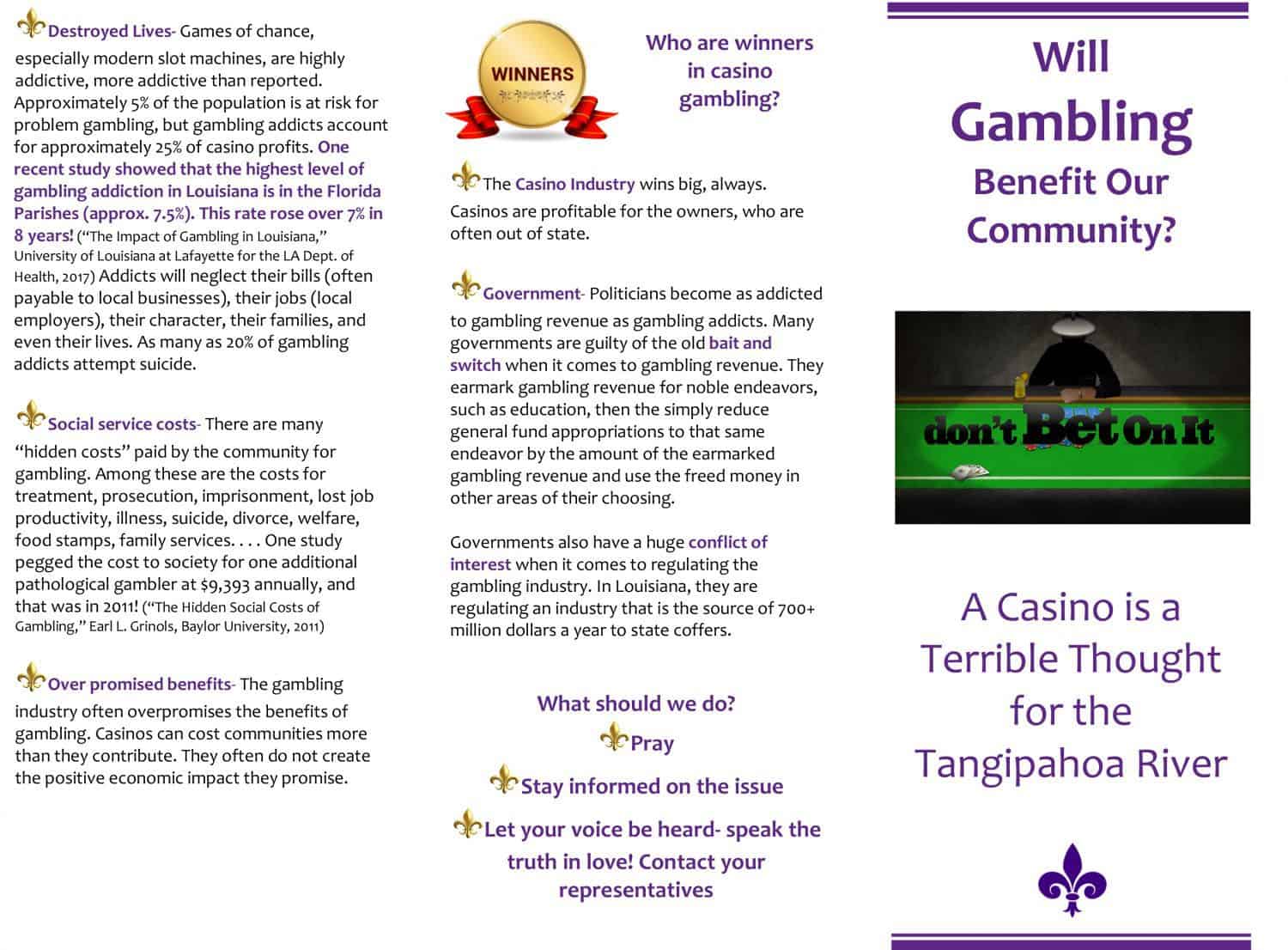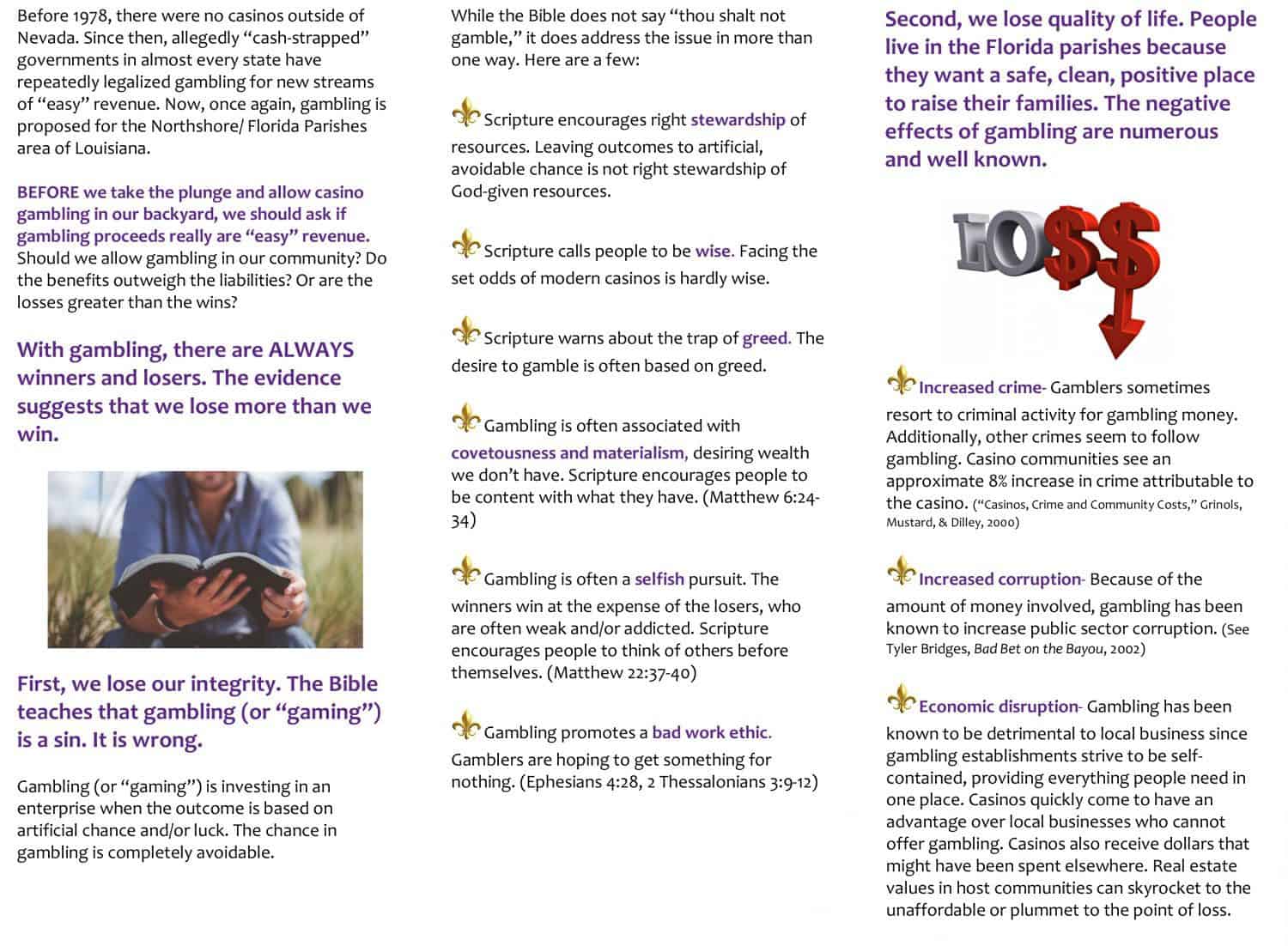 Check out what is going on Tuesday and do your best to attend and speak. David Cranford and Louis Husser and others are doing all they can to mobilize us.
There are other bills BUT Senator While's calls for the legislature to grant Tangipahoa the "right" to call an election for the purpose of setting up a casino near Robert/Bedico. Let's step up, OK? Read and heed the following:
Tangi Pastors and other Brothers & Sisters opposed to gambling,
The LA Senate Committee on Judiciary B will meet next Tuesday, March 20 beginning at 10 am in Room E of the state capital. Six of the gambling bills will come up for discussion INCLUDING Senator Bodi White's SB 417 which calls for the referendum election in Tangipahoa Parish.
Here are the email addresses for the Senate Committee hearing the gambling bills.  It would be good to send these out so our folks can easily email their opposition to these key leaders:
LA Senate Committee on Judiciary B
Senator Gary L. Smith, Jr.
smithgl@legis.la.gov
Senator Ronnie Johns
johnsr@legis.la.gov
Senator Eric LaFleur
lafleure@legis.la.gov
Senator Jean-Paul "JP" Morrell
morrelljp@legis.la.gov
Senator Karen Carter Peterson
petersonk@legis.la.gov
Senator Gregory W. Tarver, Sr
tarverg@legis.la.gov
Tangipahoa Parish:
Representative Steve Pugh
114 Northeast Railroad Avenue
Ponchatoula, LA 70454
Phone: (985) 386-7844
Fax: (985) 386-5669
e-mail: pughs@legis.la.gov
Senator Mack A. "Bodi" White, Jr.
808 O'Neal Lane
Baton Rouge, LA 70816
District Phone: (225) 272-1324
Fax: (225) 272-1382
e-mail:   whitem@legis.la.gov
Here is a suggested email to send. Suggested email:
Hello Senator! Thank you for your service! This Tuesday, your committee will consider six bills relating to gaming in Louisiana. This email is to expression my opposition to those bills and ask for your opposition when considering your vote. Specifically, SB 417 involves games in Tangipahoa Parish. As a resident of _________________ Parish, I express my opposition to SB 417 and express my expectation that you vote in opposition of SB 417.
It would be great for as many of us to be there as possible willing to speak against any and all of these bills. If you cannot go, please, please contact your senator and the senators on the committee and let them know of your opposition to gambling and these bills (see attachment for their names). Also contact your representative to let them know of your opposition.
Sound the alarm! Fire the cannon! Forward this e-mail. It will be much better to defeat this in Baton Rouge than here. I've attached the Agenda for the meeting.
I've also attached a tri-fold brochure that addresses the issue of gambling. Feel free to print and use wherever, no credit necessary. Also make any suggestions you may have about the brochure.
If you have any questions, please let me know. If I've added you to this group and you want off, please let me know or forward this e-mail to others.
Blessings to all of you,
David E. Cranford, Senior Pastor
First Baptist Church of Ponchatoula
325 E Pine St
Ponchatoula, LA 70454
(985) 386-3075
(985) 662-1616 cell
blog: www.davidcranford.church
church website: www.fbcponchatoula.com
e-mail: decranford@gmail.com
twitter: @DavidECranford