By Brian Blackwell, Message Staff Writer
RUSTON – Organizers of this year's Louisiana Baptist Pastors Conference hopes to equip participants with the tools needed to lead people of all backgrounds within the church.
"Our hope is that we can learn how to better reach and connect with people of different language groups and ethnic backgrounds, as well as families who deal with special needs or individuals who suffer with mental health issues," said Pastors Conference President Kirk Jones.
Scheduled Nov. 11-12 at Cook Baptist Church, the annual gathering's theme is "Whole: Equipping the church to love the whole church."
"The passion behind this theme is to take a Biblical approach to some difficult topics," Jones said. "Our heart is not to address what we should do but how we could and would lead our church to live out our shared convictions. We will provide this opportunity through times of biblical preaching and through times of practical instruction in breakout session."
The conference begins 6 p.m., Nov. 11, with music led by Fellowship Church of Prairieville and Istrouma Espanol of Baton Rouge, and with a message shared by Louisiana Baptist Church Planting Strategist Carlos Schmidt.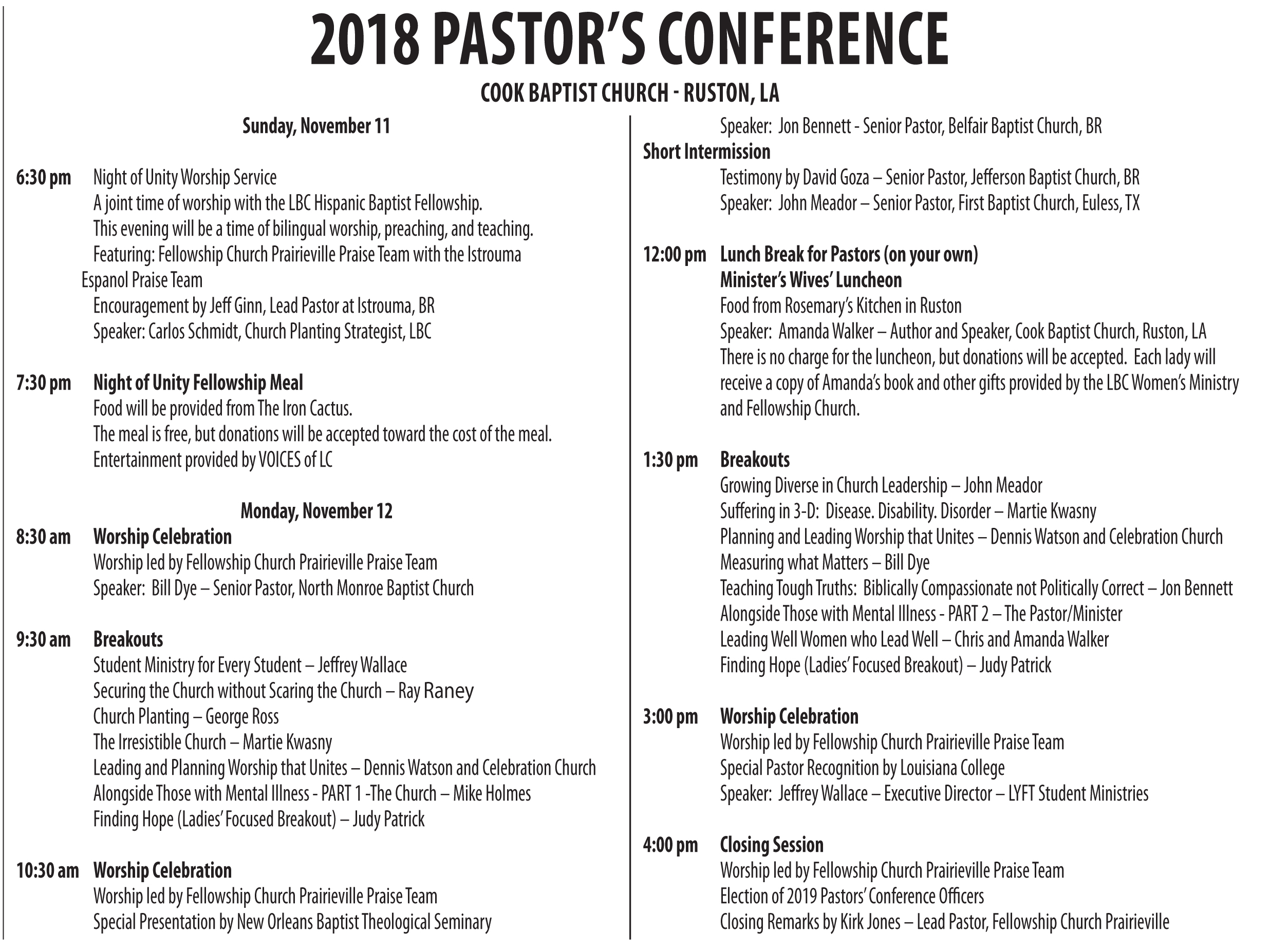 Following the bi-lingual worship service, participants will have an opportunity to eat a meal with members of the Hispanic Baptist Fellowship. This will allow participants to form connections and celebrate the Louisiana Baptist Convention's diversity, Jones said.
The conference continues at 8:30 a.m., Nov. 12.
Those scheduled to preach are John Meador, lead pastor of the First Baptist Church in Euless, Texas, Jeff Wallace, executive director of Lift Tour and Youth Pastor Summit in Orlando, Florida, Bill Dye, lead pastor of North Monroe Baptist Church in Monroe, and Jon Bennett, senior pastor of Belfair Baptist Church in Baton Rouge.
The conference will feature breakout sessions, Nov. 12, on such topics as leading worship services that unite, developing diversity in leadership and loving those with mental health issues.
Spouses will have the opportunity to attend a Ministers' Wives lunch featuring Amanda Taylor Walker, author of "Discovering God's Design:  A Journey to Restore Biblical Womanhood." Walker's husband, Chris, is university and missions pastor at Cook Baptist. Each participant will receive a complimentary copy of her book.
Childcare will be available during the conference, by reservation only. Anyone needing this service should e-mail sreynolds@fellowshipchurch.cc.