By Brian Blackwell, Message Staff Writer
BASTROP – Bonita Road Baptist Church has been in revival for three years and all signs point to this spiritual renewal continuing for the foreseeable future.
Since Casey Johnson joined this Morehouse Baptist Association church as pastor in 2015, worship and Sunday school attendances have increased and more than 70 people have been baptized.
Furthermore, the congregation is in the midst of constructing a new 11,000-sq.-ft. worship center that will seat 500 people to accommodate the growth – with even more new members added from revival services that took place in early March.
"It has been an absolute joy watching God change so many lives in such a short time," Johnson said. "I think the greatest thing, apart from the salvations, has been watching people truly understand the freedom they have to worship God because of their identity in Christ. From a pastor's perspective that is a treasure and a victory worth celebrating."
In the time Johnson has been pastor of Bonita Road Baptist Church, worship attendance has grown from 200 in one worship event to a combined 375 in two morning services. Sunday school attendance now stands at 230, up from 130.
He points to a concentration on prayer as a catalyst for the positive change. Johnson preached a series on prayer leading up to the recent March revival.
Now, people are responding during invitations by bringing the Bible with them to the altar and praying a passage of Scripture to God.
"It's important to build our foundation on the Word of God and prayer," Johnson said. "They have grabbed hold of the Word and the power of prayer, and are growing so very much as a church. We pray the Word of God back to Him because God will always fulfill His Word."
Among the members embracing prayer is Stacy Sharp.
Of the three women's Bible studies she has led, two have focused strictly on prayer. Additionally, a women's retreat she attended in 2015 included moments of prayer, which Sharp said was a key factor for the growth the congregation has experienced.
"After that night of the retreat, we saw many miracles, such as marriages healed, people being cured of physical illnesses and more," Sharp said. "It's because of prayer that we at Bonita Road are a people who are closer as a church and are experiencing much freedom in our worship, personal life and relationship with Christ."
REVIVAL AFTER THE REVIVAL
During the most recent revival services, the worship center was filled to capacity each evening. In the end, two people came forward to accept Christ as their personal Savior, but many more made other spiritual decisions – a call to ministry, a commitment to share the Gospel more fervently, or, a need to be obedient through baptism.
Since the end of the revival, Johnson has talked with many who attended, including some who expressed a desire to follow Christ.
"When we had the revival, the place was packed each night but we weren't seeing people come to us to make a salvation decision," Johnson said. "Instead we saw God moving in the hearts of the Christians and people there. We are seeing lingering effects even after the revival meeting, which has been huge to us."
After the revival ended, the congregation made a decision to cover their future worship center with prayer. Nearly 225 people took markers and wrote a scripture, inspirational thought or prayer on beams and the concrete floor.
Johnson said that was a symbolic move for how his congregation believes about the power of prayer for their future worship center.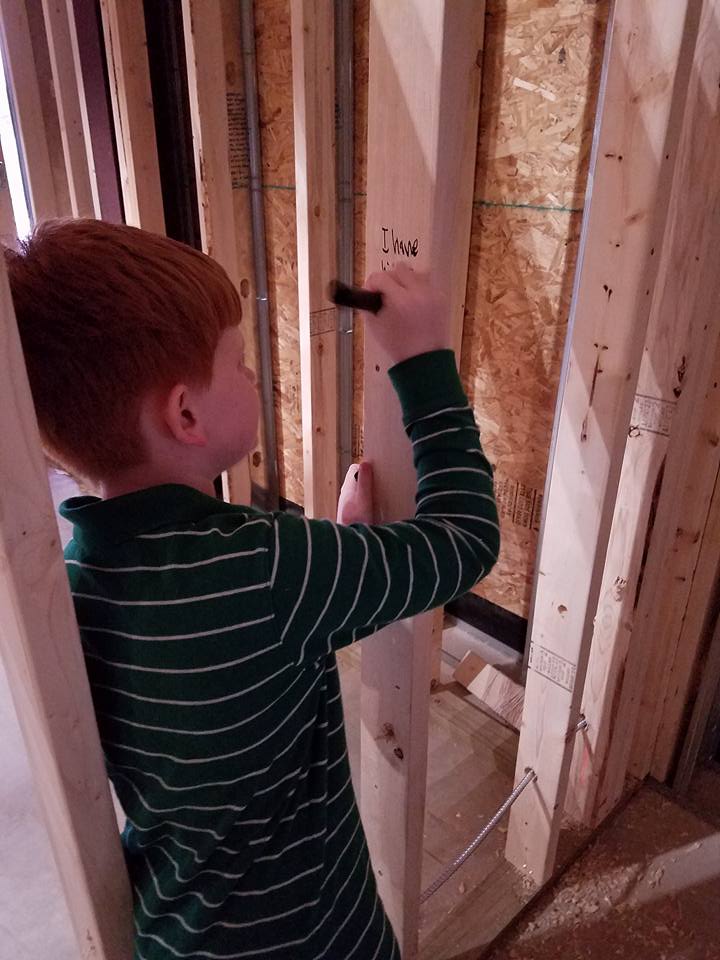 "It was a powerful moment for us as a church body," Johnson said. "We believe our best days are ahead of us and we think the Word of God and prayer will pave the way to greater things.
"So seeing families walk through the new sanctuary writing scriptures and prayers on the walls and foundation was a moving experience," he continued. "One of our men said a few days later he was moved to tears going back through and reading some of the words that were written on the walls."
CHURCH WITHOUT WALLS
One mindset Johnson tried to instill in his congregation when he arrived there is they are a church without walls, a people who minister to the community in a variety of ways.
Members are given business-sized cards to hand out at restaurants, stores or other locations around Bastrop. On one side are the words "Live Love Ministries" and on the opposite side is an encouraging word, with an invitation to attend a worship service or other activity at Bonita Road Baptist Church.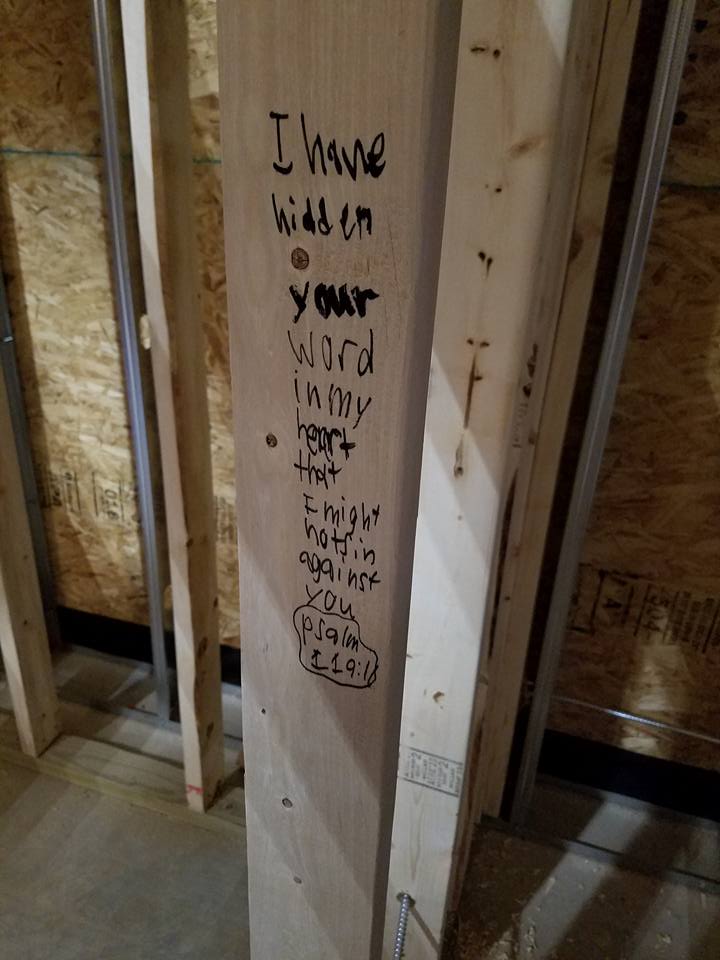 The goal is to bless recipients and let them know they are loved and welcomed by the congregation.
The effort has paid off, with many people coming to visit the church.
During a recent service, a family attended because a member paid their meal tab at a local restaurant, leaving one of the cards that says "You've been blessed by Live Love Ministries of Bonita Road Baptist Church."
Yet another of its ministry effort is the church's Just One Discipleship Initiative. A member is paired up with another person to invest in the person for a year through one-on-one discipleship.
"The Bible says to reach the whole world, but this allows our members to have a personalized outreach to people closer to home," Johnson said. "We are trying to get outside the walls and be the church. These are simple approaches that make ministry very personal.
"We like to say we are a Driveway Church," he continued. "Whether they are at the gas station, restaurant or ballfield, our members are getting outside our walls and talking about Jesus."