By Message Staff
BATON ROUGE – Members of the Baton Rouge community will gather on the steps of Louisiana's capitol building for a time of prayer Saturday, Aug. 12.
Scheduled from 6 to 8 p.m., "Prayers for Progress" will focus on praying for the recovery of the greater Baton Rouge area more than a year after the thousand-year flood of 2016. During that time, the area was inundated by floodwaters, which damaged more than 140,000 homes. The prayer vigil will feature area pastors and community leaders and is open to the public.
"We are praying on the anniversary of the flood to bring awareness to the continued efforts that need to occur to attain recovery," said Thomas Sheppard, pastor of the Church at Addis and president of the Provisions Project. "A year has passed and many people outside our area have forgotten about the destruction left behind. We have three to four years of work left here and we are hoping that by coming together for prayer, people will be reminded of the need we have."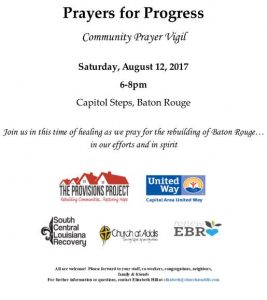 The Provisions Project is a long-term disaster recovery group created by the Church at Addis. Through this effort, they are providing financial and physical resources to help people in the Baton Rouge area to move back into their homes.
"Prayers for Progress" is coordinated by the Church at Addis and Provisions Project Executive Director Annette Girman, with assistance from co-sponsored affiliates Capital Area United Way, South Central Louisiana Recovery and Renew EBR.
For more information, contact Elizabeth Hill at elizabeth@churchataddis.com.