By Philip Timothy, Managing Editor
COVINGTON – God never ceases to amaze.
In the 17 years Johnny Huffman of Fairhaven Ministry has shipped cargo containers, the Almighty Father has guided and provided him with the means and finances to ship to numerous countries for numerous people in need.
Huffman can now add Belarus to that growing list of countries.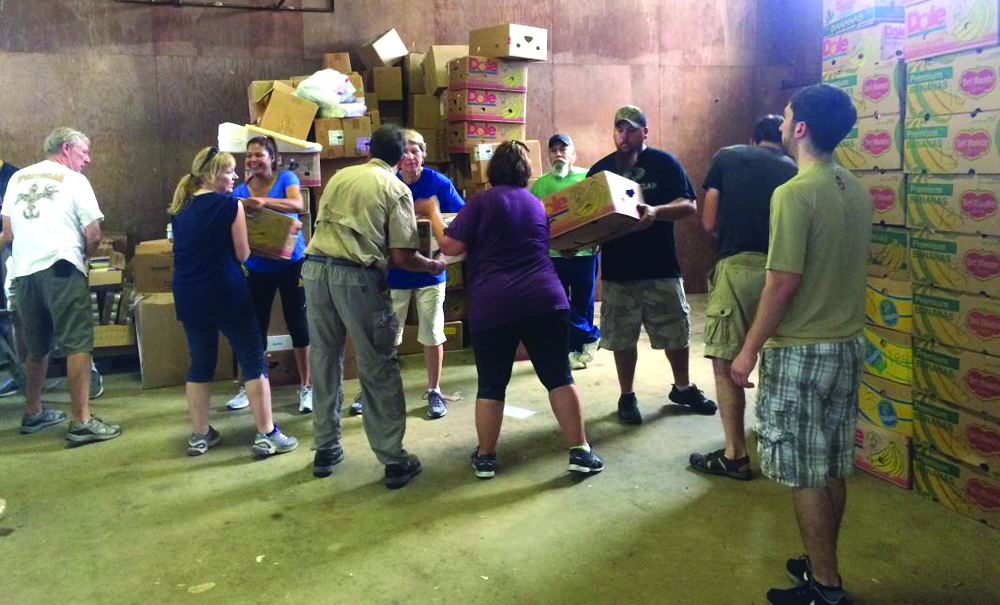 Opening doors that were once closed, God provided Huffman's ministry with everything it needed to send a container stuffed with much needed supplies to Belarus. The estimated time of arrival for the container in Grodno is July 5.
"We were thankful for the opportunity He gave us to ship there," Huffman said. "Please pray that only He will be glorified as the supplies are distributed."
With the Belarusian container safely on its way, Huffman then turned his attention to preparing for the shipment of two more containers, both headed for Haiti, in mid-June. Each container is being loaded with 20,000 pounds of beans, 20,000 pounds of rice and 2,000 pounds of cooking oil as well as additional supplies.
In the midst of preparations to get the containers loaded and shipped, and unbeknownst to Huffman, he discovered God also wanted him to prepare a special container to be shipped to address a great need in Africa.
"I guess if there is one thing I have learned in my life, it is the importance of leaving myself open to any way The Lord may want to use me," said Huffman. "This past week, on Monday, May 29, I was made aware of some very critical needs in Malawi.
"While I was busy loading a container for Belarus, God put together and provided for a container for a village in Malawi as we came to find out their needs were great" said Huffman. "We are presently working with Jan Sawa who has the Mwana Mission Project there to get this container filled and shipped by sometime in mid to late July."
To find out more on this ministry, go to mwanamissionproject.com.
"Below is a list of needs for the mission," said Huffman. "Besides what you and others are able to help provide for these people in need, we will be purchasing beans, rice, and cooking oil. We are praying to be able to ship this load in July.
"I would ask you prayerfully consider this list," he continued. "Every one of these items is greatly needed. It is very difficult for most of us, here in America, to comprehend what it is to have such desperate needs.
"Thank you for your prayers and support," said Huffman. "Please continue to pray that whatever is accomplished through Fairhaven, either locally or in other countries, will be done in such a way as to glorify our Lord and Savior and to bring praise and honor only to Him."
Anyone wishing to assist may contact Huffman by either phone, 985.264.5052 or through email:  johnny@fairhavenministry.com.
NEEDS LIST FOR MALAWI, AFRICA
Albino Care: Newborn to Geriatric                                                                                                                                                              
SPF Cream (50 to 100)
SPF Lip Balm
Burn Ointment
Triple Antibiotic
Sunglasses
Reading Glasses 250-300+
Brimmed/ Floppy Hats (covering face and neck)
UV Clothing, Long Sleeve Clothes
Medical Needs:
General 
Wheelchairs
Crutches Walkers & Canes/ Repair Tips
Baby Car Seats (Hydrocephalic Children)
Baby Beds
Adult Diapers
Barrier Ointment
Thermometers
Bandages/Gauze
Antibiotic Creams/Gels
Fever Control (Adult and Children)
Anti-Inflammatory
Pain Care
Equipment
Any Surgical
Oxygen Equipment
Beds (Any kind)
Trays
Nebulizers
Women
General Needs:
Children
Formula
Baby Food (High Protein)
Cloth Diapers
Plastic Pants
Diaper Rash Ointment
Diaper Pins
Clothing (Newborn to Teens)
Shoes
Non Battery Operated Toys
Sports Equipment
SOCCER Balls
School Supplies (ANYTHING)
Desks
Desk Pencil Sharpener
Village Requests
Machete's
Tarps
Wheelbarrows
Shovels
Pick-axes
Seeds
Fencing (Chicken Wire)
Sheet Metal
Heavy Duty Lock and Keys
Solar Anything
Rubber Boots
Trowels
General Tools of Any kind
Folding Chairs
Bedding
Sundries