By Message Staff
UPDATED 2:45 p.m. 6/14
Elected officials, Louisiana Baptist pastors and others continued to offer prayers of support Wednesday afternoon, June 14, for Louisiana congressmen Steve Scalise, who was in critical condition after undergoing surgery for injuries sustained when a gunman opened fire on the House Majority WHIP earlier in the day.
"Join with me and my family as we pray for Rep Scalise's quick and complete recovery," said Louisiana Baptist Convention President Gevan Spinney, who is also pastor of First Baptist Church in Haughton.
U.S. Rep. Ralph Abraham said in a statement released to the Baptist Message that he and his wife, Dianne, are praying for Scalise's recovery and thanked law enforcement officers for their acts of bravery.
"Since May, someone has threatened to shoot Rep. McSally in the head; someone tried to run Rep. Kustoff off the road with her car; and now a man seemingly attempted to assassinate several members of Congress at a baseball practice," said Abraham, a member of Alto Baptist Church. "I know we're a divided country, but Americans do not settle political disagreements with violence. No matter how divided we might be in our opinions, we absolutely cannot accept this violence as the new norm for settling our differences. Let's show the world that Democracy still works – that America is still that shining beacon the hill for freedom and civility."
Evangelist Franklin Graham wrote on his Facebook page that prayer should "always transcend political party" and commended the U.S. House Democrats who were shown in a photo praying for Scalise and others wounded while practicing for the annual baseball game between Democrats and Republicans.
"Our country needs to be unified and acknowledge that we are One Nation Under God first—not Democrat or Republican," Graham wrote. "Will you join me in continuing to pray for Congressman Scalise, the other victims of this violent act, and for all those in leadership in Washington and across America. We need God's help."
ORIGINAL STORY
ALEXANDRIA, Va. – Louisiana congressman Steve Scalise was in stable condition Wednesday, June 14, after a gunman opened fire on the House Majority WHIP and multiple Congressional aides during a baseball practice in Alexandria, Va.
The Associated Press reported Scalise was standing on second base when he, two U.S. Capitol Police officers and two other people were shot by assailant 66-year-old James T. Hodgkinson of Illinois.
Fox News reported special Agents David Bailey and Crystal Griner were both wounded in the incident. Griner was shot in the foot or leg and Bailey, who was not shot, sustained another, unspecified injury.
Zack Barth, a congressional aide to Rep. Roger Williams, R-Texas, and Tyson Foods director of government relations Matt Mika were also injured in the incident. Mika was shot multiple times and was in critical condition, according to a statement by his family.
President Donald Trump addressed the nation shortly afterwards and revealed Hodgkinson died in police custody while also praising the heroism of the two officers.
"Many lives would have been lost if not for the heroic actions of the two Capitol Police officers who took down the gunman despite sustaining gunshot wounds during a very, very brutal assault," he said. "Melania and I are grateful for their heroism and praying for the swift recovery of all victims.
"Congressman Scalise is a friend, and a very good friend. He's a patriot and he's a fighter," said Trump. "He will recover from this assault. And, Steve, I want you to know that you have the prayers not only of the entire city behind you, but of an entire nation and, frankly, the entire world. America is praying for you and America is praying for all of the victims of this terrible shooting.
CHAOTIC MOMENTS
U.S. Rep. Mo Brooks, R-Ala., told the AP Scalise was down on the ground with a hip wound.
"I was looking right at him," Bishop told Detroit radio station WWJ. "He was a sitting duck."
Brooks said Scalise "crawled into the outfield, leaving a trail of blood."
According to a news release from Scalise's office, he was transported to MedStar Washington Hospital Center, where he was undergoing surgery this morning.
"Prior to entering surgery, the Whip was in good spirits and spoke to his wife by phone. He is grateful for the brave actions of U.S. Capitol Police, first responders, and colleagues.
"We ask that you keep the Whip and others harmed in this incident in your thoughts and prayers. This office will release additional information regarding the Whip's condition as appropriate."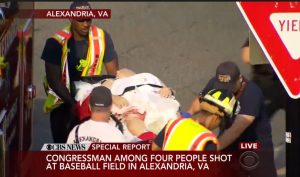 A screenshot shows U.S. Rep. Steve Scalise after he was shot early June 14, 2017. Josh Caplan/Vessel News screenshotLOUISIANA LAWMAKERS' REACTION
Louisiana Gov. John Bel Edwards said in a statement the shooting was an "outrageous, cowardly attack on one of our own."
"Steve Scalise is a friend, colleague and fighter for the people of Louisiana," he said. "While details continue to unfold, I want to thank the Capitol Police, all the first responders and other members of Congress for their quick and heroic efforts.
"Reports indicate they took swift action to take down this madman and render aid," Edwards said. "Donna and I are praying for Congressman Scalise, his wife Jennifer, their two children, Madison and Harrison, and all those who were injured. I would ask the people of Louisiana to join their prayers to mine for a quick recovery for Congressman Scalise."
Fellow congressman from Louisiana who serve in the U.S. House of Representatives also offered their prayers for Scalise.
U.S. Rep. Mike Johnson, who is a member of First Baptist Church in Bossier City, said in a statement he was shocked and saddened by the event.
"We are still waiting for additional details, but my dear friend and colleague, Steve Scalise, members of his U.S. Capitol Police detail, and perhaps other staff members were among those harmed," Johnson said. "Our family and staff join countless other Americans this morning in praying for the victims and their precious families. Steve is one of the finest men and most dedicated public servants I have ever known, and I expect his faith and strength of character will carry him through this ordeal.
"We live in a dangerous world, at a time when evil runs rampant and leaders are targeted," he continued. "We must be vigilant at all times, but we can never operate in a spirit of fear. We will not be deterred."
U.S. Rep. Ralph Abraham, a member of Alto Baptist Church, took to Facebook after the shooting.
"(My wife) Dianne and I are asking you join us in praying for our friend Steve Scalise, his aide and their families. Though we're still gathering facts, one thing is clear: there's no justifiable reason for such a senseless act of violence."