By Brian Blackwell, Message Staff Writer
NEW ORLEANS – For years, James Fletcher struggled with drug addiction, resentment toward others and separation from his brother who was sentenced to serve life at the Louisiana State Penitentiary at Angola.
But in late 2015, Fletcher found hope in Christ at Celebration Church, marking the beginning of an awakening in his own life, and also a revival among many of his family members.
"I let those strongholds take over my life and had to realize forgiveness is one of the biggest things I need to have," said Fletcher, who was baptized in January 2016. "I was so dependent on the things of the world to hide my feelings, but once I took it to the Lord, He took away those burdens and anxiety.
IT ONLY TAKES A SPARK
Fletcher also shared how God used his faith to touch the lives of those close to him.
"Now, a lot of my family members have accepted Christ," he exclaimed, "and we are so excited about what He is doing with us."
After his baptism, his mother, Veronica Singleton, and wife, Elisha, accepted Christ and both were baptized within a six-month period. His grandmother, Janet Richard, was redeemed in March and has plans to follow through with baptism in April.
Fletcher, who recently became a youth ministry volunteer for Celebration Church's River Parishes campus in LaPlace, said God has shown him in the past 15 months that He can use one life to impact many.
"Being able to share my story with my youth, family members and others in the community is a great feeling," Fletcher said. "People see how great the Lord is and what a difference He has made in my life. They want to then follow the Lord. It's like a gravitational pull."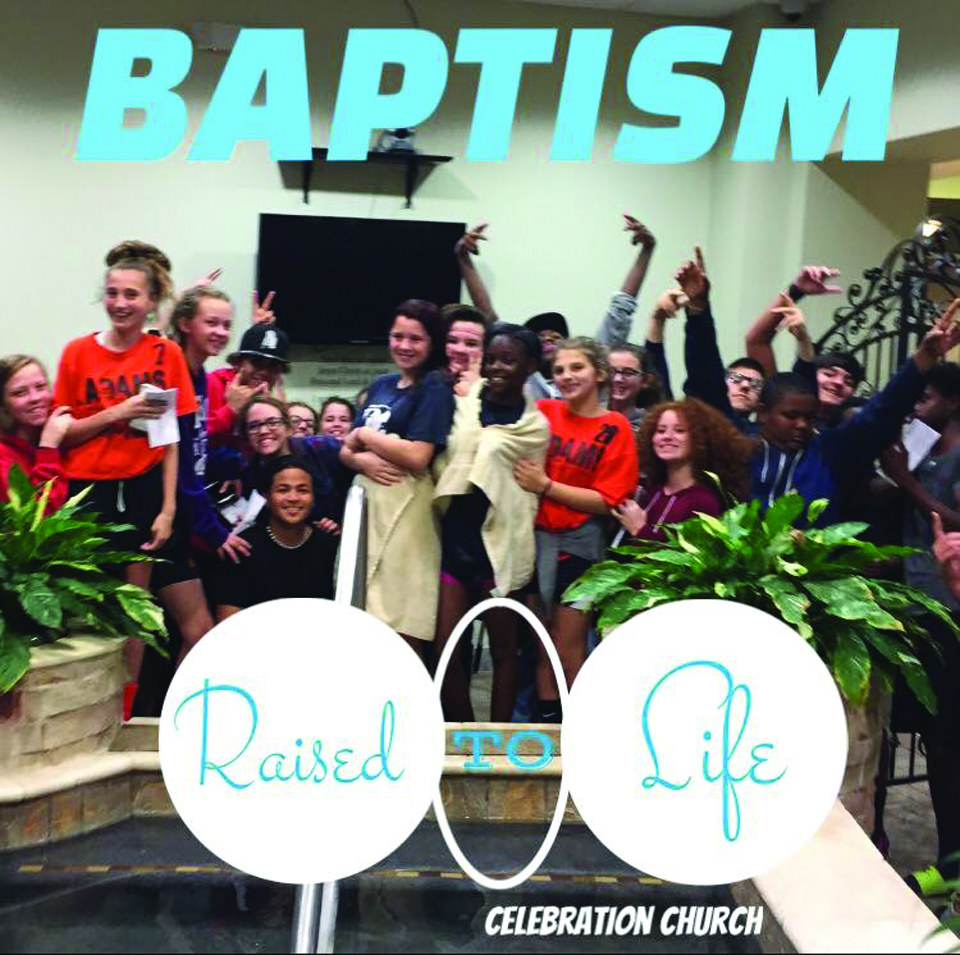 EVANGLISTIC HEARTBEAT
In the past two years, Celebration Church has experienced more than 500 baptisms annually, combined among its nine campuses in the New Orleans, Northshore and Baton Rouge areas.
Also, the single congregation in multiple locations has recorded more than 1,100 and 1,250 professions of faith, respectively, in 2015 and 2016.
In 2017, through just the first 12 weeks of 2017, Celebration Church has baptized 89 people and counseled 359 individuals who made professions of faith. The goal for the year is 700 baptisms, which if reached would set an all-time record, surpassing the all-time high in 2015 of 552.
Dennis Watson, pastor of Celebration Church and is found on the Metairie campus most days, attributes the growing number of baptisms and professions of faith at the church's several locations to being intentional about equipping members to share their faith.
He pointed to a recent initiative to illustrate how simple it is to prepare others to share Christ around them.
Earlier this year, he and his staff began requiring members to write down the details about how they came to saving knowledge of Jesus. In turn, pastors and other leaders from the church assess the inputs, and return instructions via e-mail with hints on how to start a conversation that leads to presenting their testimony with people they interact with on a regular basis.
Since launching the campaign in February, hundreds of members have turned in their write-ups for feedback.
"By having them write down their story, we are able to turn around to affirm their story of what the Lord has done in their life and encourage them to share this with others," Watson said. "By sharing ways to share their story, it then becomes a natural transition to invite friends and others to church as well."
MISSIONS IS THE PULSE
Watson said the congregation's health and growth in evangelism is a reflection of the members' passion for missions.
In December 2016, Celebration Church started two new campuses – one in the Covington/Mandeville area and another in St. Gabriel. They hope to launch another campus in New Orleans East in April 2018.
Celebration Church also supports church plants around the country, in Florida and Texas, and even internationally, in Costa Rica.
Celebration Church also has trained more than 5,000 pastors in other nations in the span of 5 years – and has been inspired by the Holy Spirit to train 1,000 pastors in the Dominican Republic in the next 10 years, seeking to spark revival in the country.
"We can help take that nation for Christ," Watson said. "It can revolutionize the country. We could see a great spiritual awakening in the Dominican Republic and other nations as well.
GOD'S VISION GUIDES
"I knew God had called me here in 1989 to pastor and start a church in New Orleans, I wanted to be faithful in that," he continued.
"There is no way we could have dreamed where we are now. It's just God — the favor and blessing of the Lord."